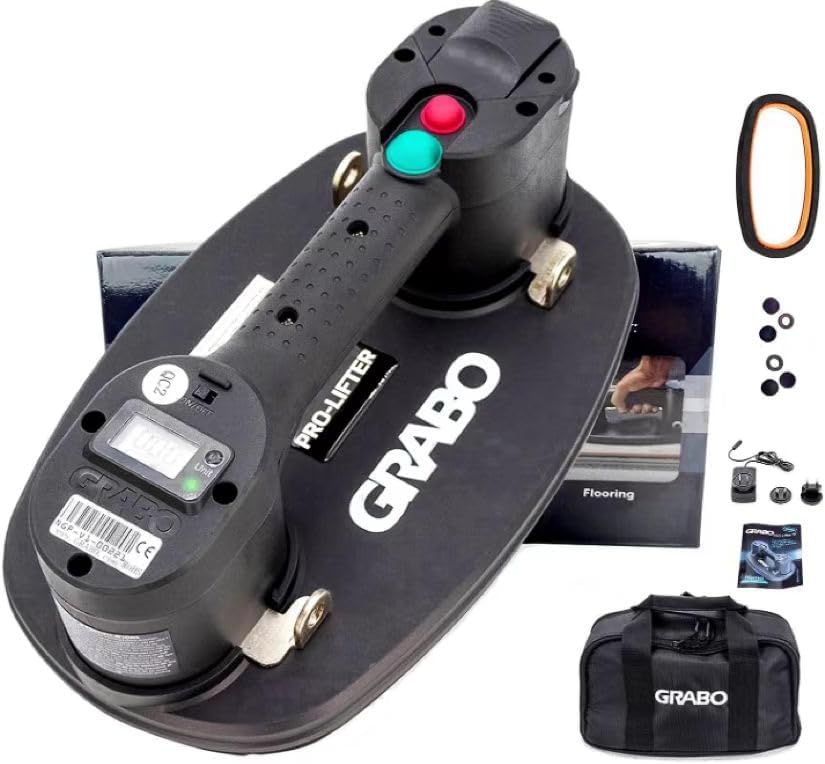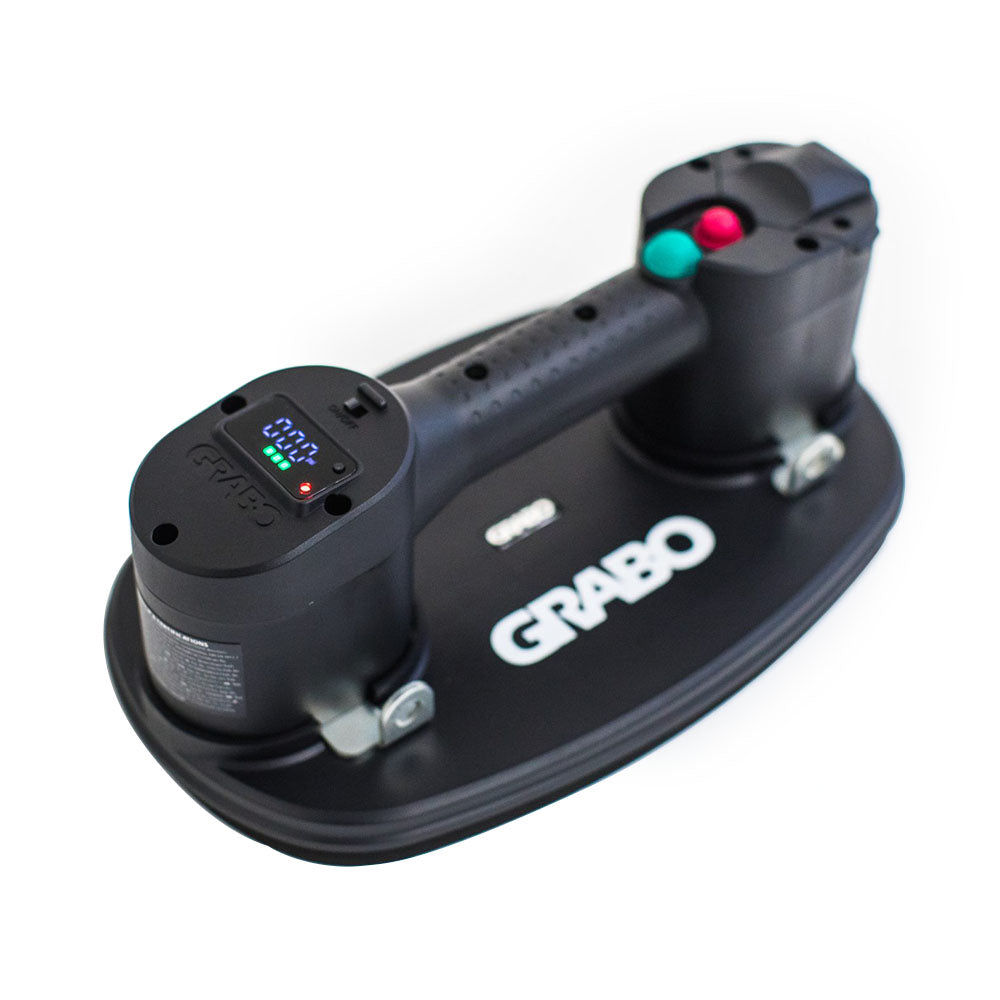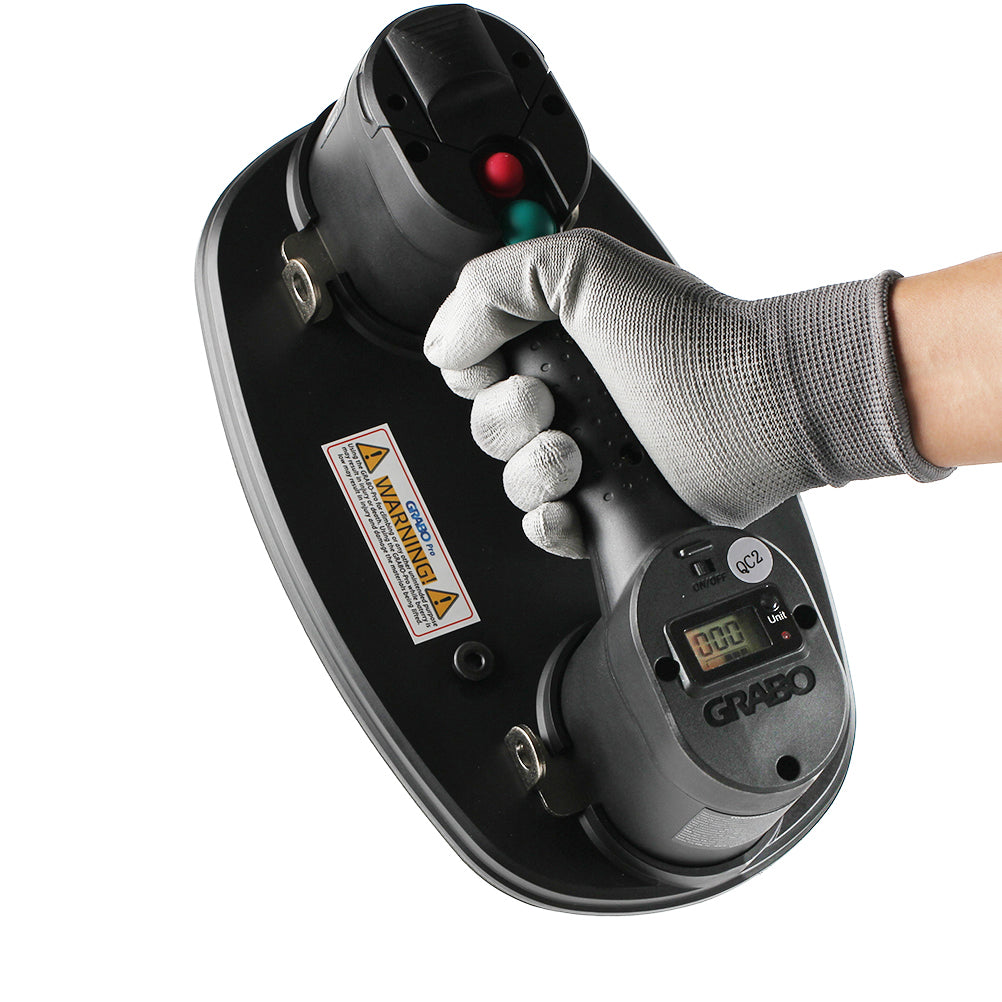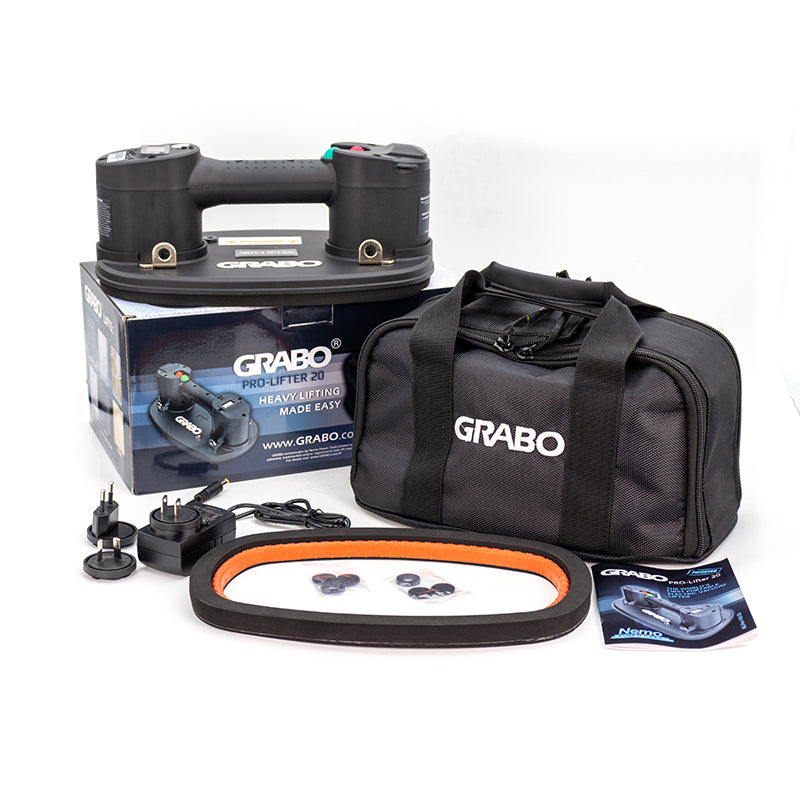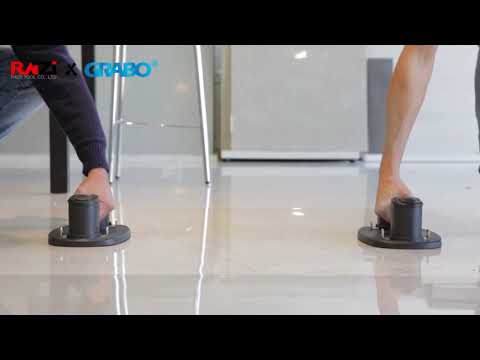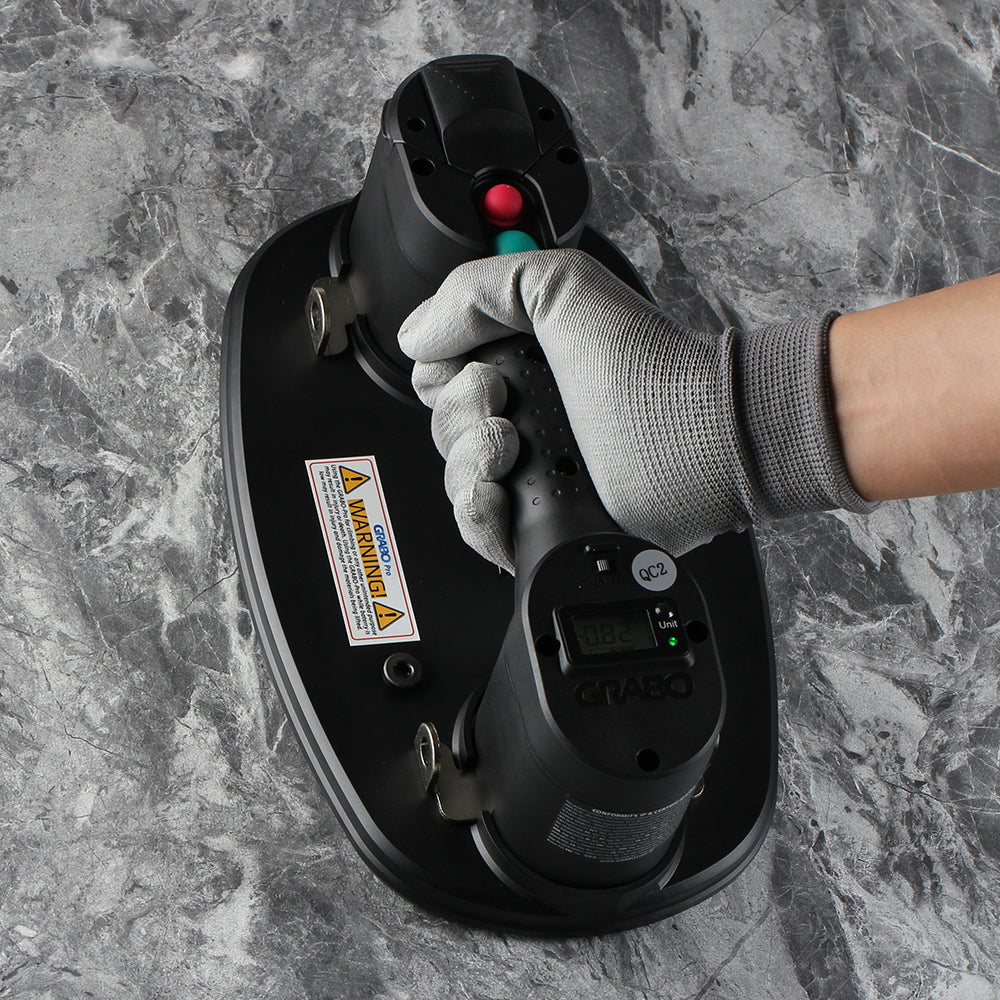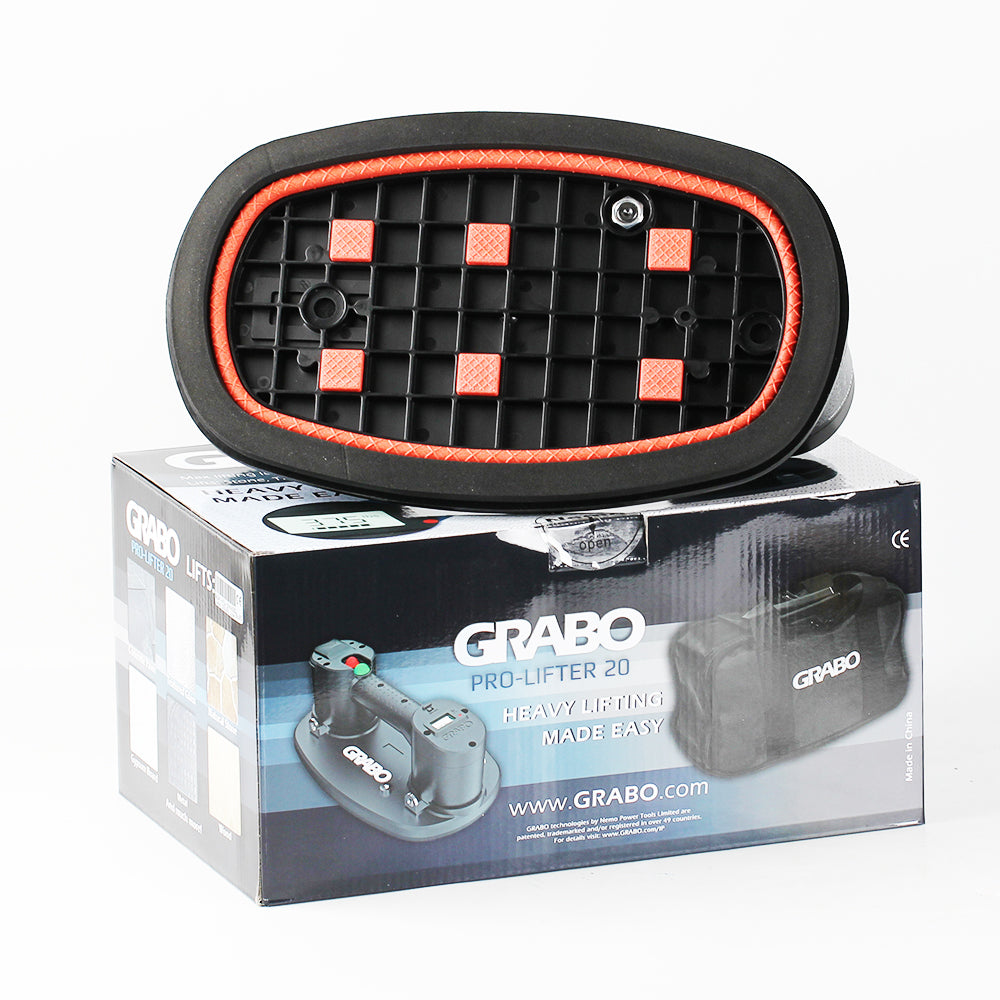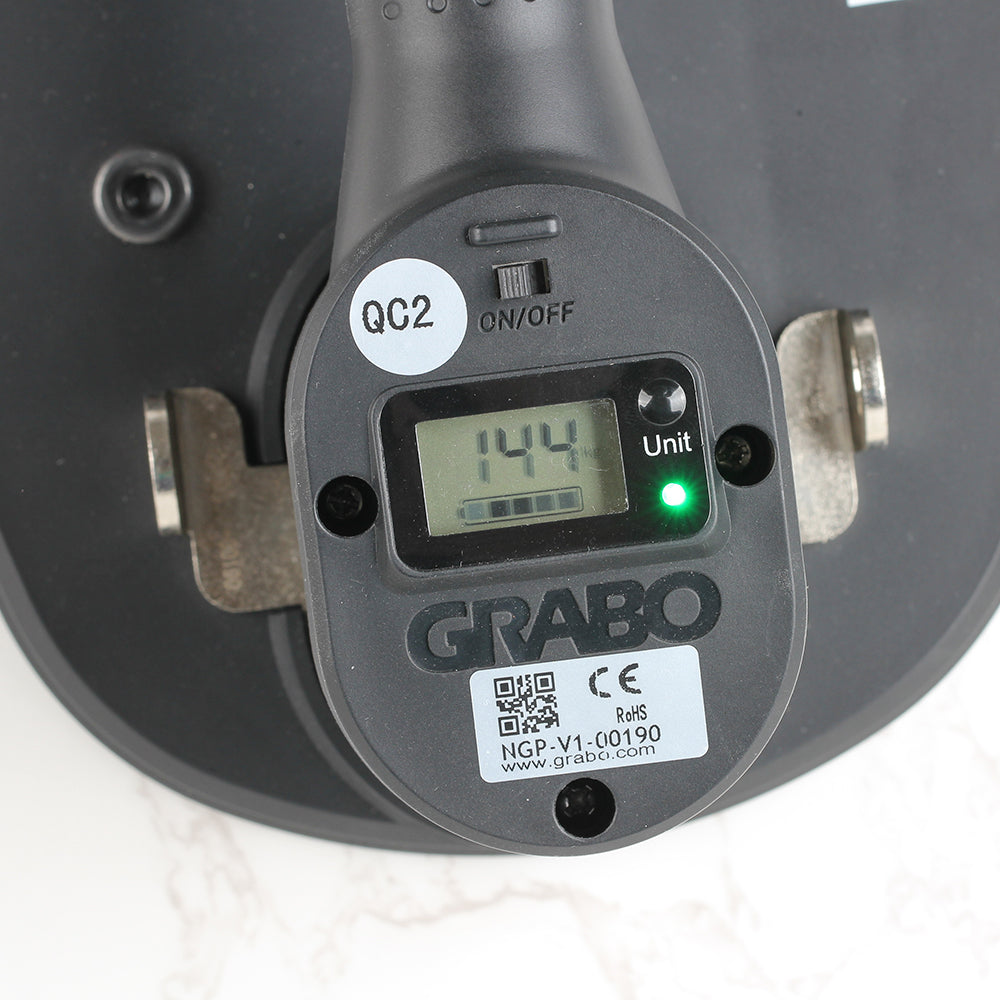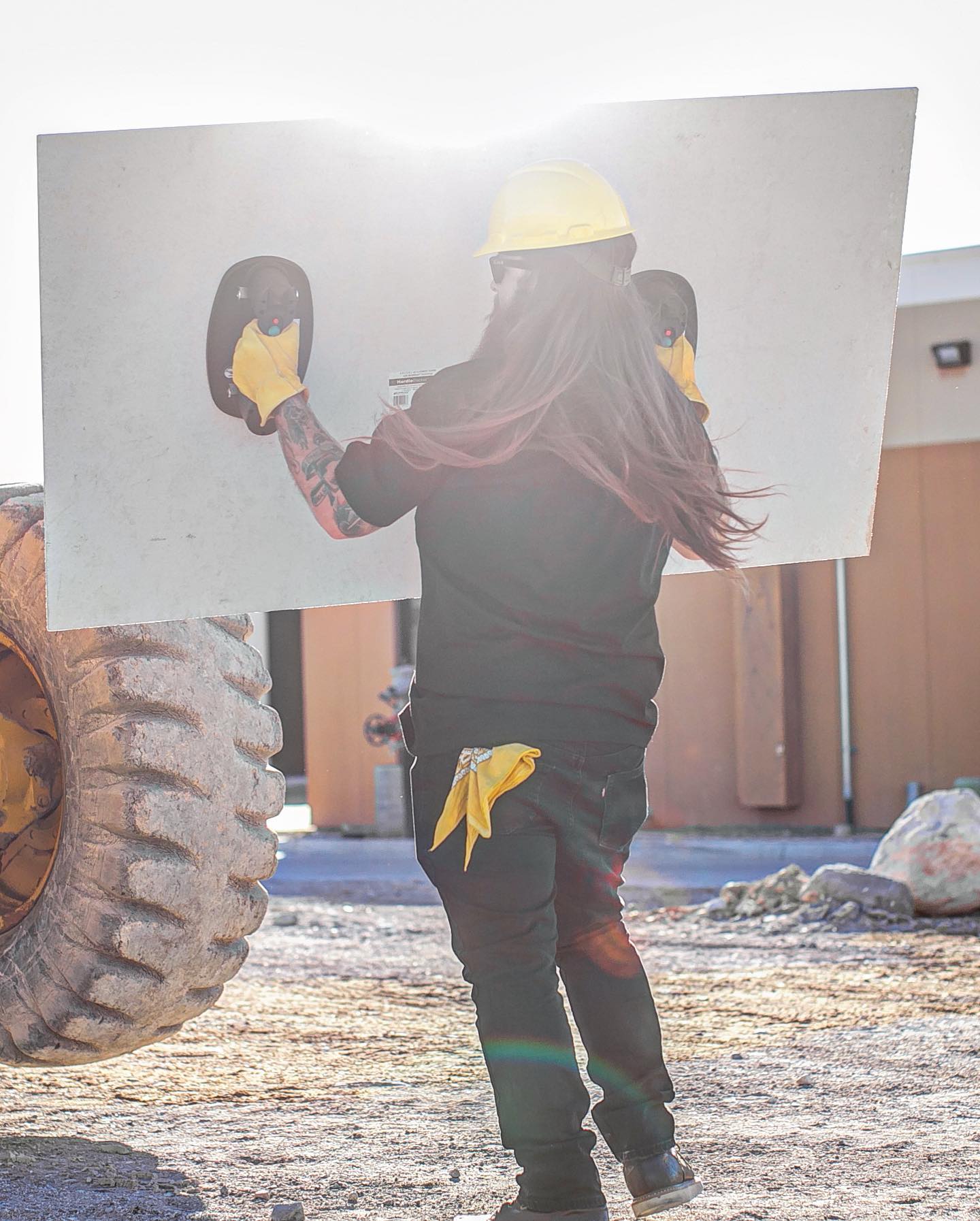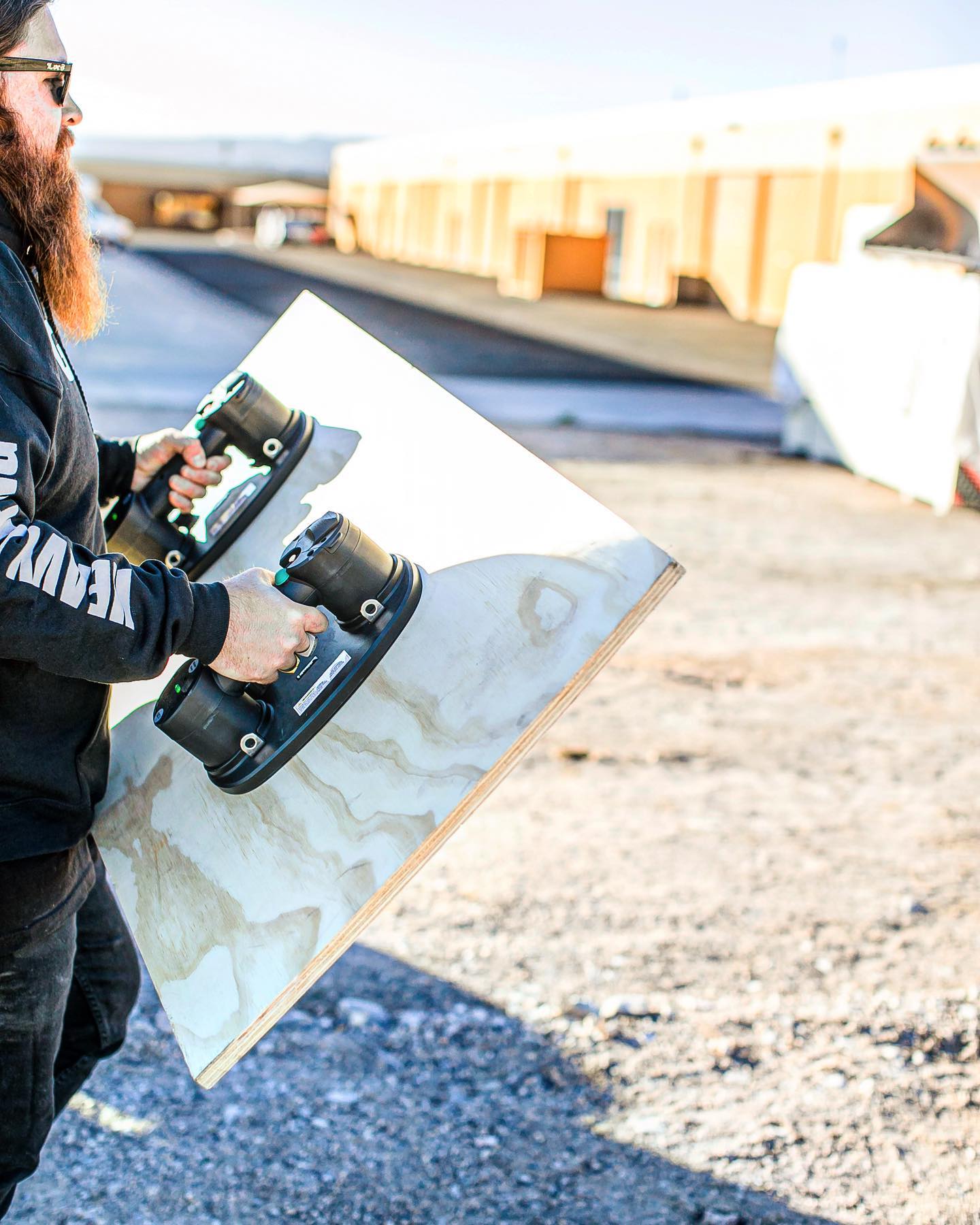 Grabo Pro Electric Vacuum Suction Cup Lifter with Electronic Display for Wood Drywall Granite Glass Tile Porcelain
---

NOTE: EU countries choose to ship from Germany Amazon warehouse, no need to pay the additional VAT




GRABO Pro is equipped with a robust vacuum pump. The foam rubber vacuum seal on the GRABO Pro tool is strong and resistant to loss of vacuum pressure. Once the pressure pump is activated, it creates a strong suction and firmly attaches to any non-porous flat surface. The suction is strong enough to hold firm even loads as heavy as 375 lbs . In order to lift any slab of flat solid material, simply turn on the unit and place it straight on the surface. The GRABO Pro automatically monitors the vacuum and if vacuum pressure is lost the pump is automatically powered up until the vacuum pressure is restored.

The handle is also equipped with a digital display that shows the maximum weight that the GRABO Pro can safely lift at that very moment. The weight is displayed in both pounds and kgs.

The Pro-Lifter is equipped with a smart digital pressure sensor. This makes it even more effective on different surfaces. With a simple press of a button the lifting function is automatically activated and regulated. The sensor automatically provides for the optimum level of suction, keeping objects in complete control whether the object is being lifted or even during movement.

The digital display on the grab handle shows the pressure applied in both bars and psi. With the pressure sensors, you don't have to worry about turning the vacuum pump on or off. In fact, the automatic sensor is especially useful when lifting and moving coarse materials. The sensors digitally detect and maintain the required pressure while transferring the object being lifted . This provides for precision handling and installation without too much of a hassle. In any case the sensor automatically stops the pump on reaching maximum vacuum capacity of 11.6 PSI.

Specification:

Dimensions: 297mm x 181mm x 115mm(11.7 x 7.1 x 4.5 inches)
Max lifting load: 375 lbs (170 kg)
Full 1 year warranty. CE Certified
Battery voltage: 14.8V Li-ion
Battery cell specification :2.6Ah
Rated power: 16W
Working temperature: 0°C - 60°C (30°F - 140°F)
Working time (full charge): 1.5 hours

With pressure gauge, you can easily read the pressure index.

Provide one-year warranty.

 

Max Lifting Force:

Glass

 

 170kgf / 375lbsf   120kgf / 265lbsf 
Metal

  

110kgf / 242lbsf   110kgf / 242lbsf

Plastic

 100kgf / 220lbsf    100kgf / 220lbsf3
Wood

  

100kgf / 220lbsf   65kgf / 143lbsf 
Ceramic Tile

  

170kgf / 375lbsf   120kgf / 265lbsf
Rough Concrete

  

80kgf / 176lbsf  80kgf / 176lbsf
Dry Wall

  

75kgf / 165lbsf   65kgf / 143lbsf
Rough Slate

  

80kgf / 176lbsf   80kgf / 176lbsf

 

Package Contents:

1 GRABO Pro tool (2023 model with digital display)
1 multi-socket charger
1 seal (preinstalled on the tool)
1 battery (preinstalled on the tool)
1 tough Oxford fabric carry bag
1 Operator's manual in English
1 pair of gloves
1 3m tape measure

 

Package Size: 310*210*140mm

 

This electric vacuum suction cup can be used with auxiliary lifting straps, features up to 170 kg (375 lbs) of grabbing force, and can secure to almost any surface, enabling you to handle unwieldly loads quicker and more safely than ever before, all while minimizing the risk of damage to expensive materials.

 

Note: The grabo is not designed or intended for climbing or securing people in any way. Using this product for climbing or any other unintended purpose may result in injury or death.