In the household stone fabrication process, originality and creativeness always matter, and it is common to add delicate details to your stones to keep them from being plain and nondescript. Aside from choosing materials with distinct colors or patterns firsthand, changing the design of stone edges is a good way to make your furniture more visually attractive. To this end, profile router bits are a perfect solution, and with various options, they are also of great help in molding, framing and polishing, versatile enough than just being a decorating tool.

This essay encompasses several aspects of knowledge you may need in selecting your own router bits, including edge form, grit number, connection form and technique, each of which I would append certain pictures of bits from our inventory for your demonstration to make it easier to understand.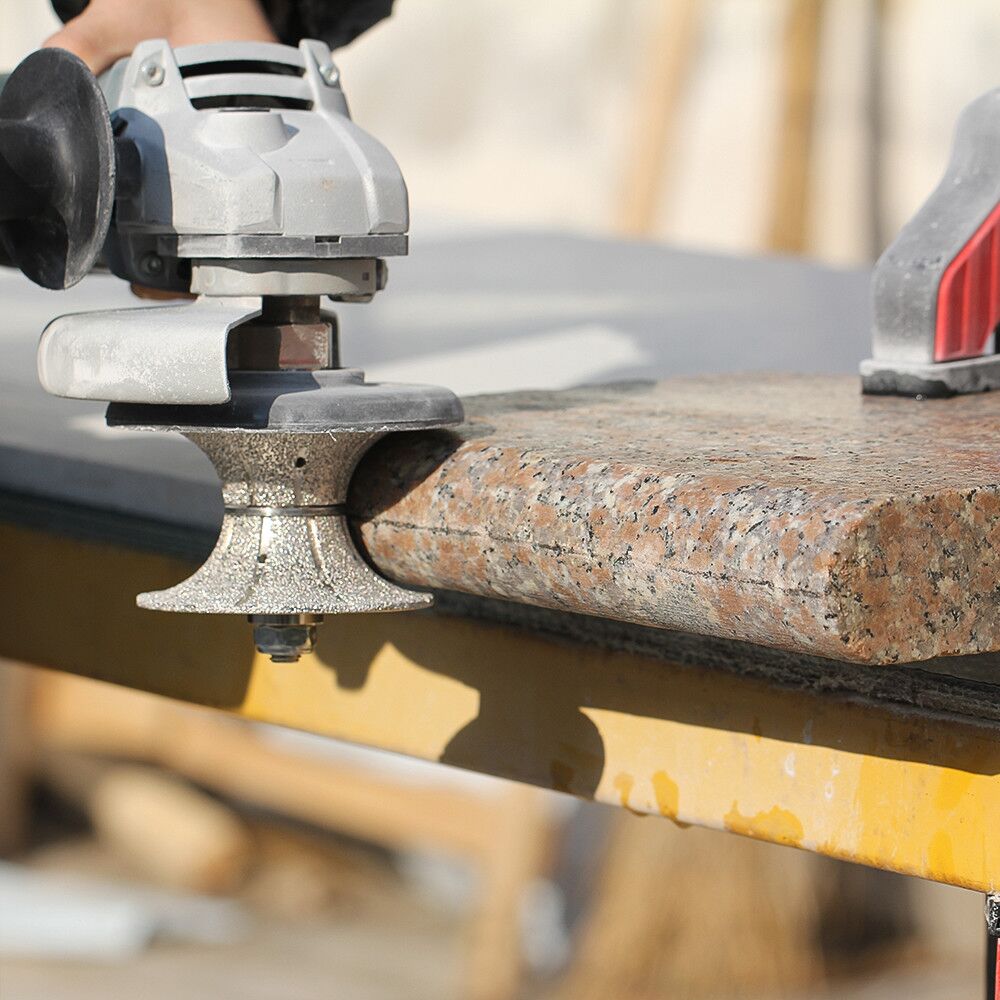 1. Router bit form
To make your stone furniture more appealing, the profile bits need to have various forms to add satisfying details to the edges.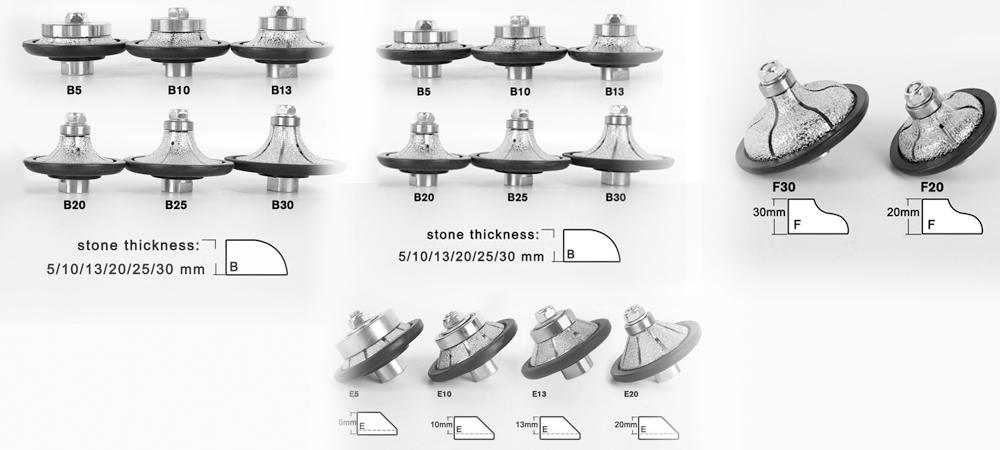 The most used forms include E form, V form, B form, F form and A form (Raizi-called names for Bevel, Full Bullnose, Demi Bullnose, Ogee and Eased Edge), various and distinguished to fit your household style and the special design of your furniture. But those are not all. In fact, any other imaginative needs for special edges can be met with customization services. For example, the bit in the picture-shown shape can also serve to route on your countertop like this: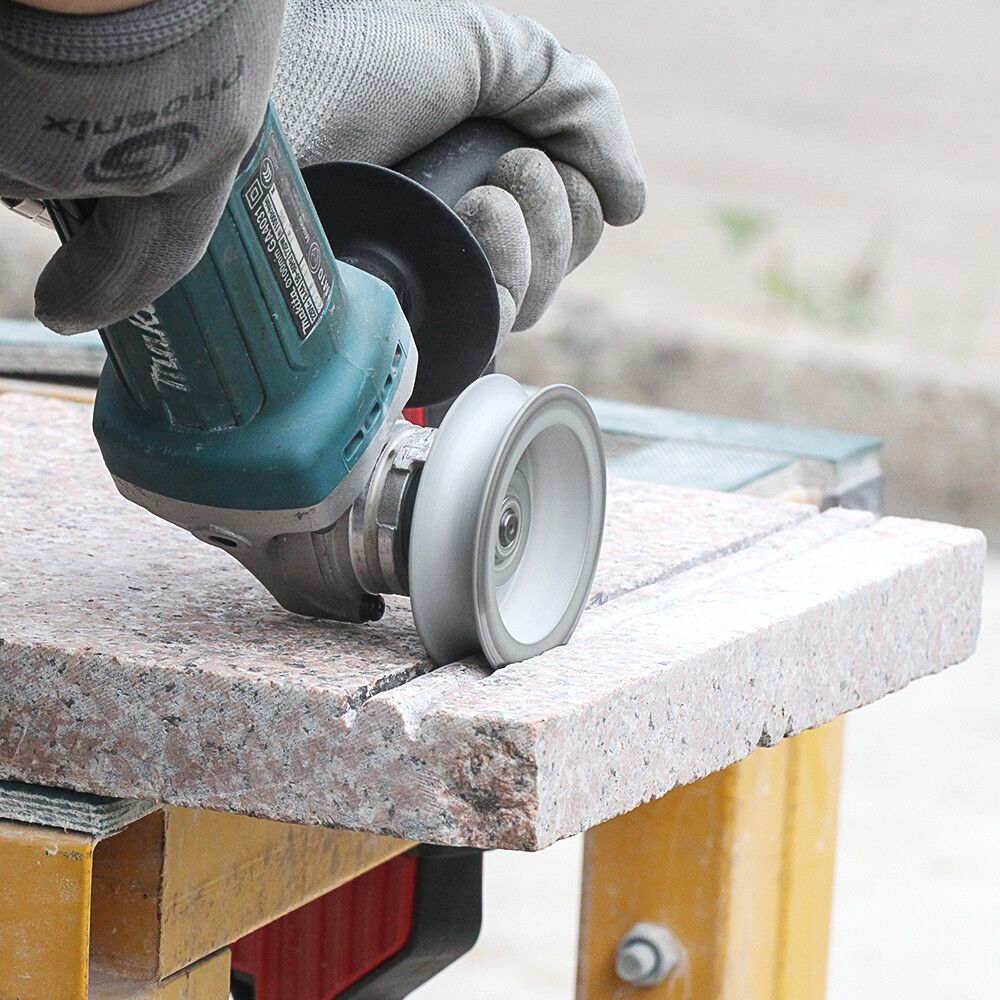 So generally speaking, router bit form is more of an aesthetic issue than a technical one, and it is about nothing but giving the pretty edges you want to have.
2.grit number
Speaking of the grit number, different products can vary a lot.
For those grinding-oriented ones that are mostly designed for rough shaping and molding, aggressiveness is what matters most. That means their diamond particles need to be small in quantity and large in size to ensure an efficient grinding performance on hard stones. Also, apart from lowering the grit numbers, there are other approaches for those bits to gain much roughness and then a higher efficiency: adding segments to their rims, for example. For your information, the grit number of grinding bits basically ranges from #30 to #50.
On the other hand, for polishing bits, things would be a little different. The diamond grits within them can be finer in size and more in quantity, making them more suitable for removing marks and bringing gloss; they often involve resin bonds rather than metal bonds to reduce toughness, avoiding perceivable marks that may get in the way of offering a consistent and gloss polish on the edge. Also, those qualified resin bonds can also to fix the particles with more stability and reduce wearings.
Raizi has this three-position router bit set consisting of the grinding bit, rough polishing bit and fine polishing bit, namely positions 0, 1, and 2.
Plus, there are also some products that include as many as 7 or 8 position bits.
3.connection form
Unlike other diamond tools' connections, profile bits can be attached to a wide variety of machines, thus their connection threads are correspondingly various in kind.
For those used on common profile router machines, they have M10 and M8 bolts for connection; for those on CNC machines, 1/2" gas thread will do: we also have those double thread adapters that corporate both M10 female thread and 1/2" gas male thread, which allows the bits with the mentioned two connections to transform their thread and function on either of the machines.

Also, we have the most easy-to-use profile bits that are used on angle grinder machines. Compared with the above-mentioned ones, this kind is much handier and more foolproof, and the connection form is just as familiar to us as that of the saw blades and core bits: M14 and 5/8"-11.
4. Quality and technique
As I mentioned above, the most common profile router bits are made of diamond particles and bonds, either resin or metal ones, all of them are made of advanced techniques like vacuum brazing or electroplating. Generally, vacuum brazed products are more suitable to tackle hard stones, while the electroplated ones are better for marbles and the like.  
All the advanced techniques mentioned above not only help to improve products' performance but also elongate their duration.

That's all I can share with you about the basic knowledge of choosing the right profile bits, with it can be of your help! All the pictures of the products shown up in this essay are salable, you can leave a comment here or just go search on our official online store www.igloxx.com to know more details. Thanks for reading here.
Raizi Tool: Good tools, easy work.